Committed to the Force: The Pre-Game
Standing outside on the back patio of my favorite local bar, I was silent among my group of friends who were rhapsodizing, dissecting, the most recent film from the Star Wars series. Like I usually do when people start discussing these movies, daydreams filled my mind, thoughts of to-do lists and memories of the day. So, when one of my friends asked if I had seen it yet, it took me a minute to jerk myself out of a serious fantasy about stagediving at a Red Aunts show to answer, "Oh, I've never seen any of them."
Dead. Fucking. Silence.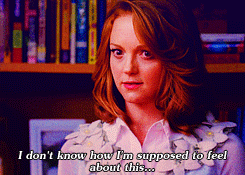 In this group of all dudes, maybe 27 to late thirties, where reading tastes definitely run more sci fi than anything else, the idea that I could never have experienced this pillar of culture was un-fucking-believable. Those ten seconds of silence fell away almost immediately, replaced by a litany of questions that was downright musical in delivery. The heavy drone of Why would you wait mixed with the drippy Why aren't you watching them right the fuck now really characterized the mood of the whole night. Notes of disbelief and hope peppered the But you know the story right, and the choral arrangement on How the fuck is that possible goddammit was seriously beautiful.
No joke, I got more shit for this than when I came out as bisexual years ago. Casually dropping a "my girlfriend" into conversations usually yielded a raised eyebrow at most, and when I point blank asked a friend if he didn't think it was, like, a fucking SURPRISE to hear about a her instead of a him, he responded with, "No fucking shit you like women. Duh."
Consider me, then, officially, publicly out as a Star Wars virgin.
Honestly, I don't know how I've avoided them so long. Somehow, in the perfect storm of not ever caring much about TV, plus getting two degrees in They-Tell-You-What-To-Read, plus teaching like I'm getting paid for it (I'm not), I missed them. Like any True American, I have some kind of idea about what they're about – cops and robbers, cowboys and Indians – but it's this mishmash, not fully formed little fetus of an idea.
For 32 years I've skated by, skirting conversations about the Force and smirking along with the crowd at gold bikini jokes, but no more. I'm here today prepared to make this thing a reality.  In the coming weeks I'm watching all the movies in the series in the order of their appearance.  I'm also tacking Spaceballs on at the end because I've seen that movie a bunch of times (IKNOWRITE) and it's just funny.  Also, because I can't do this alone, my partner in crime is my main dude Eric, who will be there to answer questions, clear up confusing bits, and geek out as his girlfriend slowly starts to understand 58% of his jokes.
So, before having seen any of the films, here's what I know about Star Wars.
There is a Teddy Bear Planet.
Main people:  one teenager, Indiana Jones, and a girl with two hair buns.
An alien who looks like a pile of puke likes the girl (Leah?) in a very uncomfortable-looking gold bikini.
Every teenager jerked off to that bikini in, like, 1989?
The Sith people are like the Wicked Witch's monkey army in Wizard of Oz.
They also have names like Sith Bad or Sith Terrible.
One planet has a bar where someone plays a song that this terrible singer covered last week in a bar here.
Someone is named Jar Jar Binks, and I hope it's a cat.
Leah? is the sister of the teenager or Indiana Jones, and they MAKE OUT HARD sometimes.
There is a war happening.  Totally a war.  Darth Vadar vs. the Teenager, Hair Buns, and Indiana Jones.
Darth Vadar is a boy's dad but is he Leah's?
The opening looks like Galaga.
I hope to see you after I watch the first film in the series, A New Hope.  Do you see what I did there.